Thursday, January 31, 2013
At austin_martin_originals
Thursday, January 24, 2013
Took the stock rear section of Kurt's xs and chopped the stock brake pedal pivot out. Shaped it how I wanted. Cut some 1"x1/8" flat stock to box it in, tacked the pieces in then finish welded it with the Tig. Slapped it on the frame were the pedal looked like it would work and so the mount wouldn't interfere with the motor being put in and taken out. Mig welded it to the frame just have to extend the stock linkage and buff the weld down alil. That is in part two of linkage extension.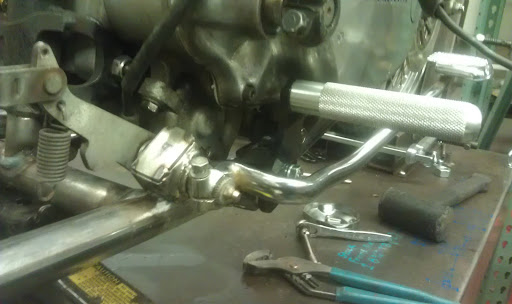 Sunday, January 13, 2013
This 81' is on its way to being fine piece of machinery. These are some of the things we knocked out today. Put the proper spacers in to accommodate the rear hardtail and stock wheel. Cut a seat mount gusset, set the motor in (which every motor mount slid in like butter), mocked the mid controls, line the rear tire up and cut the chain length. Also cut the biltwell seat hinge to work on a flat surface. Lastly I cut the monster craftsman chain tensioner in half and extended it an inch to avoid any spring back problems down the road.